NOW SHIPPING!
Thinking About Buying Mast-Climbers? STOP! Don't Buy Anything Until You See New Hydro-Crank Heavy-Duty At Half The Price of Mast-Climbers.
Our customers love the versatility of Non-Stop towers for hard-to-scaffold jobs (they set up just as fast as straight walls)!
Now Non-Stop Heavy-Duty has everyone's favorite feature of mast-climbers: push-button lifting!
Call 318-222-0702 to upgrade your scaffold today.
We Make Two Masonry Scaffolding Lines, Right Here In The USA.
We know that each masonry project is different. There is no one-size-fits-all elevating scaffolding system. We use our 25+ years as masonry contractors to develop and perfect our proven scaffold systems.
Non-Stop Heavy-Duty crank-up scaffolding is ideal for commercial masonry work up to 552 feet.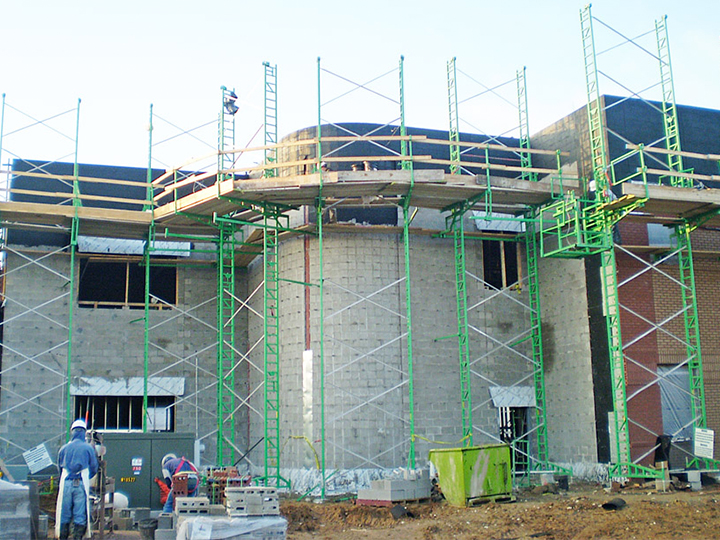 Non-Stop Standard-Duty crank-up scaffolding is perfect for residential and light commercial up to 40 feet. Turn inside commercial walls into MONEY WALLS.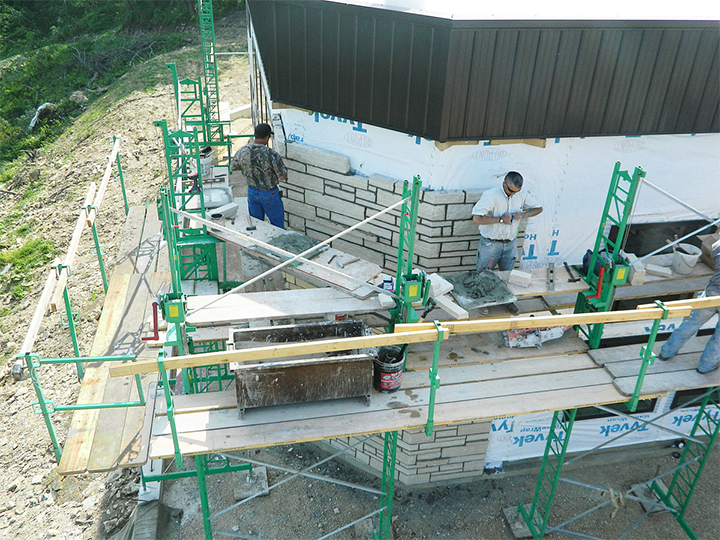 ---
3 MUST-HAVE FEATURES YOU ONLY GET FROM NON-STOP
Here at Non-Stop Scaffolding, we don't just copy scaffolding, we INVENT scaffolding. Non-Stop masonry scaffolding is the result of our 25+ years as a large commercial masonry contractor, and 42+ years of listening to our customers and innovating accordingly. We invented masonry scaffolding your workforce can easily understand and CANNOT tear up, guaranteed.  We built in money-making features the other guys don't have, and don't understand, but YOU MUST HAVE:
START ON THE GROUND AND NEVER MOVE
---
Start the wall FROM THE SCAFFOLD. You'll set your Non-Stop scaffold in place before the first block is laid. Masons and tenders stay on the scaffold until the wall is topped out. Never again will you build a wall 5′ tall, only to halt, move your crew to another wall while the laborers build scaffolds on the first. If you will calculate your labor costs during these needless interruptions, Non-Stop pays for itself just with this feature alone.
MOST CRANKING POWER AVAILABLE
---
To keep the wall waist-high at all times, you need a bullet-proof winch with tons of cranking power. Non-Stop is easy to crank – you can land a pallet of split-faced 12-inch block and crank it one-handed! The tenders never avoid the job because it wears them out, like on other systems. They simply tend the masons for about 20 minutes and crank for 3 minutes (repeat) and your bricklayers stay waist-high and never run out of materials.
LIFETIME WARRANTY, NO STRINGS ATTACHED
---
If your Non-Stop scaffold ever breaks in normal use, we replace it free, freight included. No other company will back their equipment with such an iron-clad warranty as Non-Stop Scaffolding. In fact, we're so confident in the way we build our equipment, that the guarantee is for the life of the equipment. All equipment will eventually wear out, but there are numerous contractors still using 25+ year-old Non-Stop daily.
---
Are you considering Mast-Climbers?
Did you just land that monster job and you're planning on shelling out $100,000+ for a high-tech mast-climber? And why wouldn't you? Mast-climbers keep your masons working waist-high all the time and easily double your profit. Non-Stop elevating scaffolding does exactly the same thing…for about one-third the money. Not nearly the same thing…but EXACTLY THE SAME THING for about $60,000 less.
"We've used mast-climbers on high work, but I can set Non-Stop anywhere I can drive a forklift. We use it everwhere." Sal Monarca; Middlefield, CT
"We own two mast-climbers, and we use them on straight walls 50 feet high, but my Non-Stop masonry scaffolding can go on every wall, on every job. We use it everywhere we can." Earl Woodfin; Southern Gen. Const.; Richmond, VA
Used Heavy Duty Scaffolding comes available from time to time. Check back often or call 800-845-0845 for details and availability.